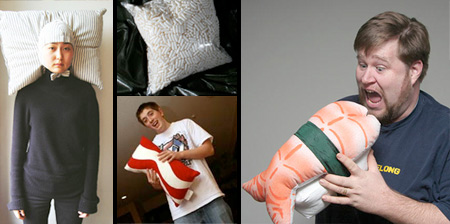 Creative pillows and unique pillow designs from all over the world.
Morning Message Pillow
As you rest your head on the pillow for those valuable last few moments before you wake the words Good Morning Sweetheart are gently pressed onto your cheek. Even though you may feel tired and drowsy your loved one can see how you feel.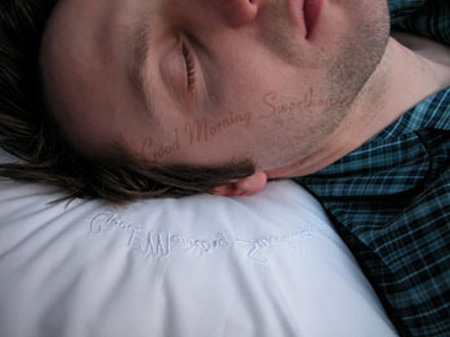 Sushi Pillows
Stylish pillows that look like giant pieces of sushi. Choose the delightful Shrimp Nigiri… or go for the delicious Salmon. There's even a giant green Edamame for you to cuddle up with.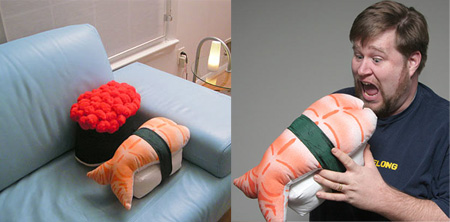 Pillowig Pillow
Wearable pillow that allows users to sleep comfortably whenever and wherever they like.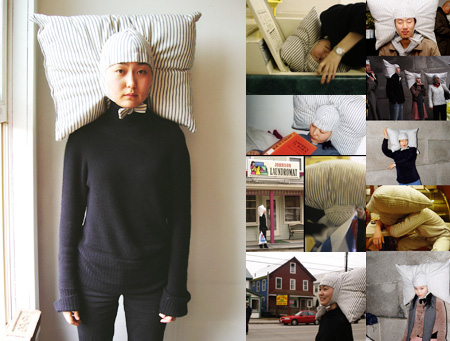 Mac OS X Icons Pillows
Collection of pillows inspired by Mac OS X icons from Throwboy.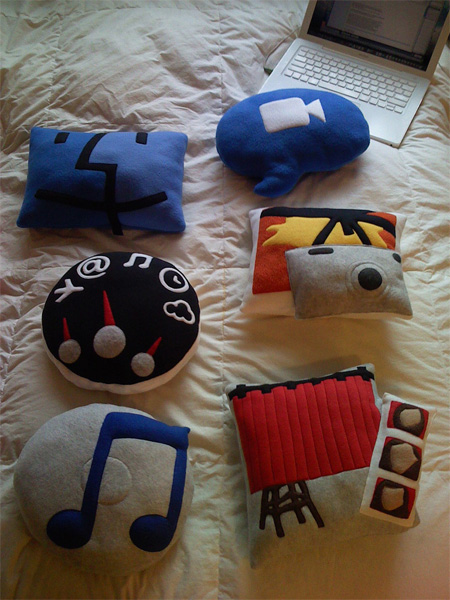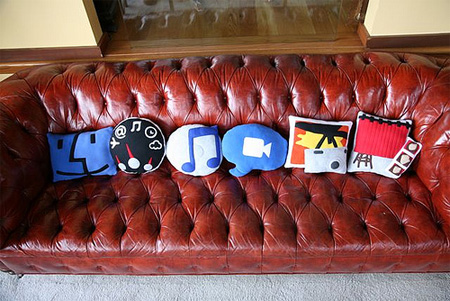 Gun Pillow
Rest your weary head on this comforting gun pillow made by the good people at Gama-Go.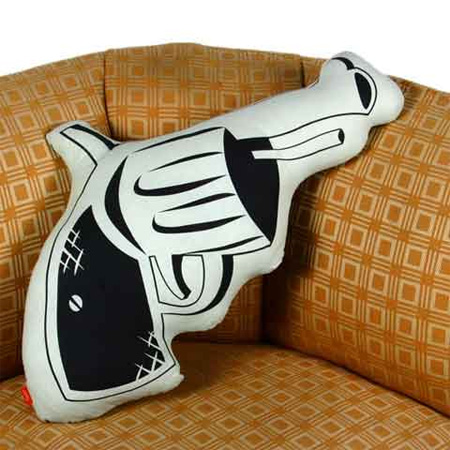 iSleep Laptop Pillow
Sleep comfortably on your laptop with this pillow. When you close your laptop, iSleep pillow gets filled with warm air, music is being played and after 10 minutes the alarm clock rings.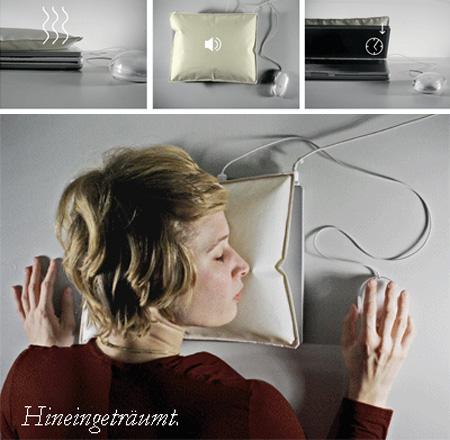 Hamburger Pillow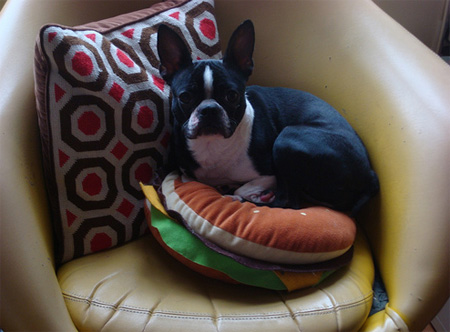 Stone Pillows
Livingstones – creative pillows that look like rocks. [buy now]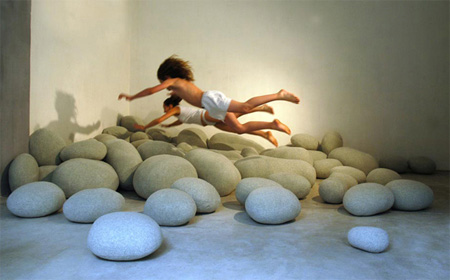 Pillow for Singles
Cecilia Lundgren, a talented designer from Halmstad, has designed these creative pillow cases for lonely singles.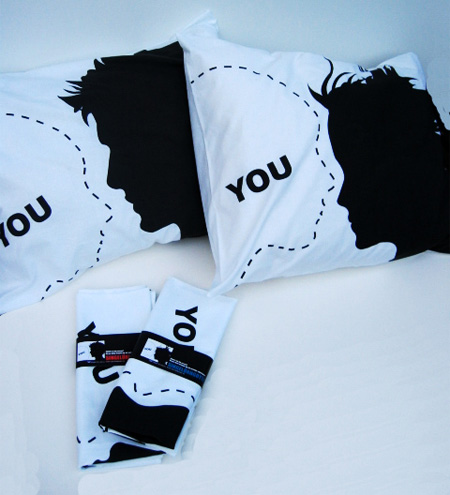 Horse Head Pillow
A great conversation piece for the wannabe wise guy who has everything, and whose wife won't let them own a revolver.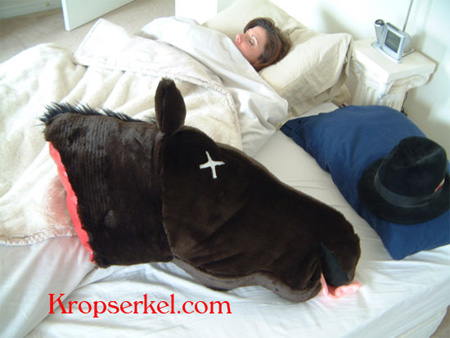 Pizza Pillow
Pepperoni Pizza plush pillow with cheese, lettuce, and beef. One of the slices is also removable with velcro attached.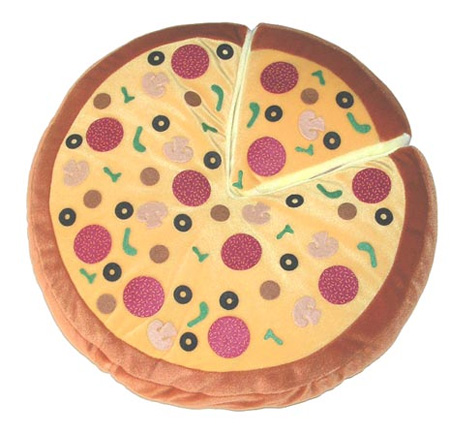 Pill-o Pillow
Creative pillow design from CarteBlanche, a luxury products company pioneering "cocaine-chic" couture.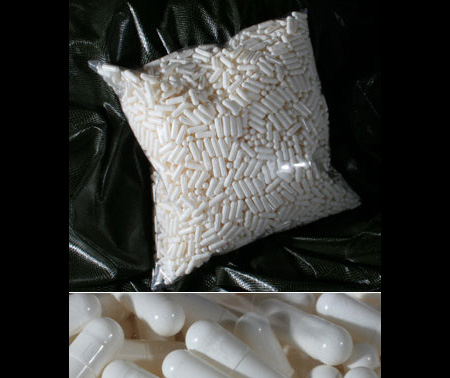 Book Pillow
Creative pillow designed by Ranch Box looks like a regular book.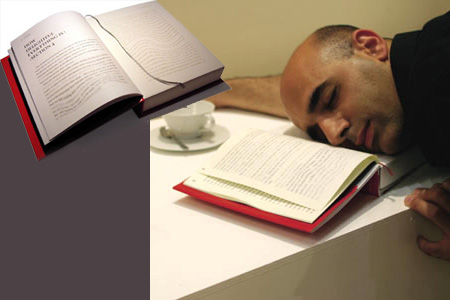 MP3 Player Pillow
If you love your iPod and can't bear to be parted from it even when asleep then this is the solution, the MP3 Pillow, a pillow shaped like an iPod. The pillow also incorporates a speaker so you can listen to tunes while you snooze.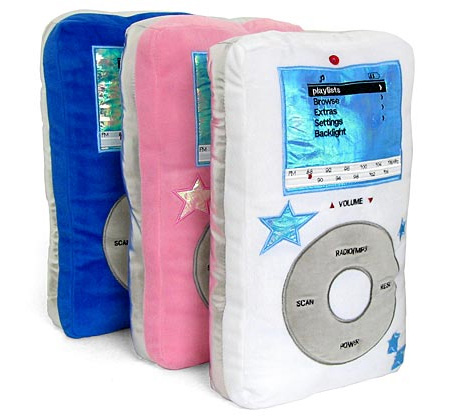 DOS Pillow
Dosugus pillow looks like a black screen with good old DOS directories embroidered on it.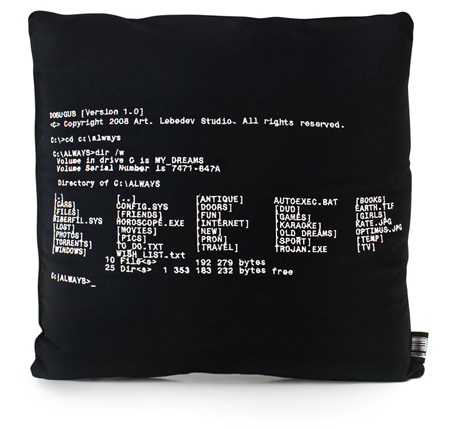 glo Pillow Alarm Clock uses LED fabric substrate to wakes the user using light. This substrate also functions as a display, showing the time on the surface of the pillow.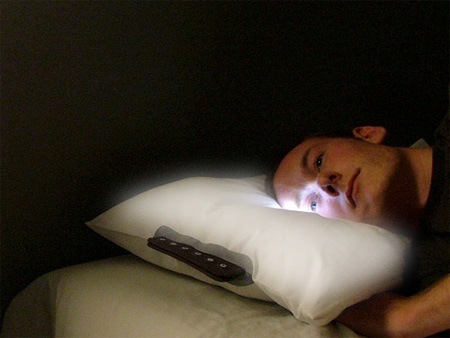 Fresh Salmon Pillow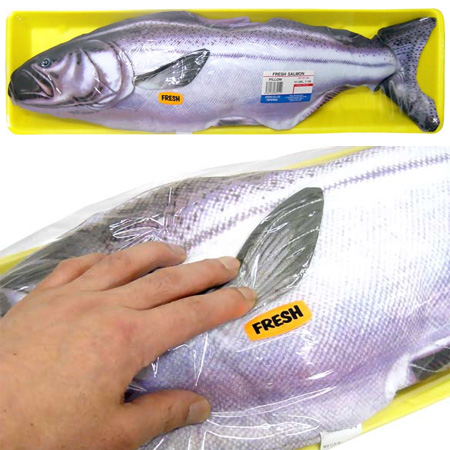 Blood Puddle Pillows
The pillows are inspired by those suspenseful moments when a sleeping loved one is a little too still for a little too long. Using an irreverent combination of comfort & fear the pillows parallel sleep & death.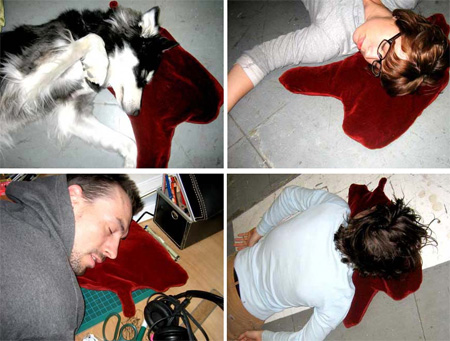 Transformers Pillows
Pillows featuring the Autobot and Decepticon Transformers logos.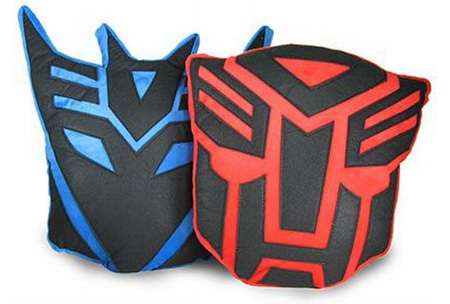 This unusual pillow is a must-have for the bacon lover in your life.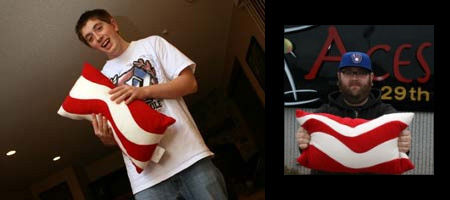 Creative iDream pillows designed by Studio Psycho from Ukraine.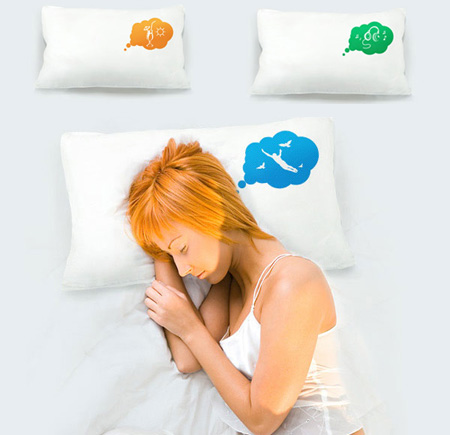 For more inspiration, check out: 15 Cool and Unusual Pillows