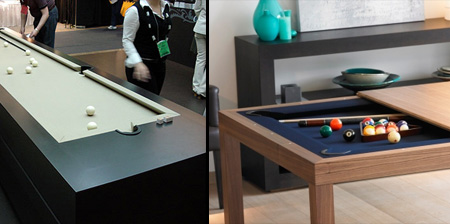 Creative and unusual pool table designs that make the game of billiards even more exciting.
Fusion Pool Tables
Convertible in just seconds, the Fusion table transforms a design dining table in a high quality billiard or game table.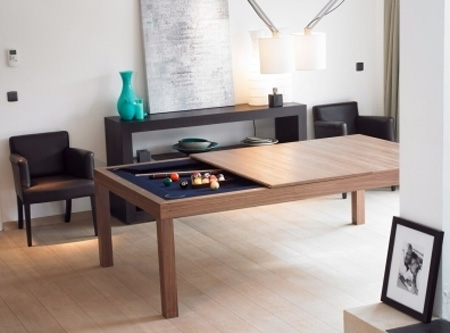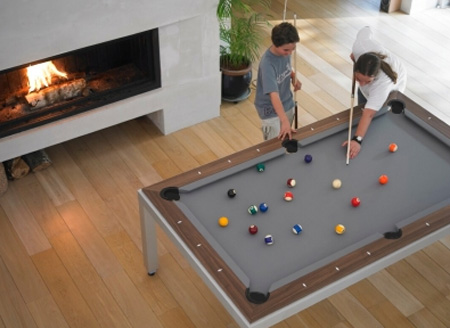 Glass Pool Table
The most advanced pool table in the world, the G-1 glass top table features resin playing structure and striking modern design.

Transparent playing surface replaces the traditional felt but allows the balls to roll at the same speed. [more]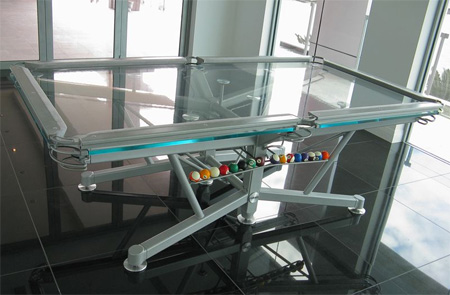 Rectangular Pool Table
Unusual custom made rectangular pool table design.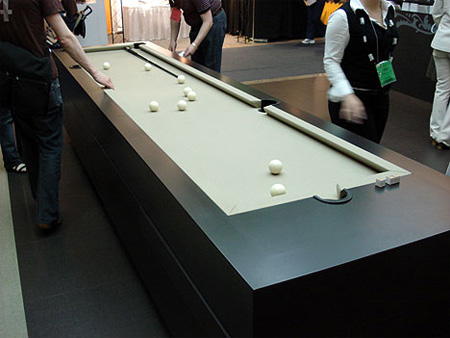 Balmoral Pool Table
This creative pool and dining table can be turned from its one avatar to another in a matter of seconds.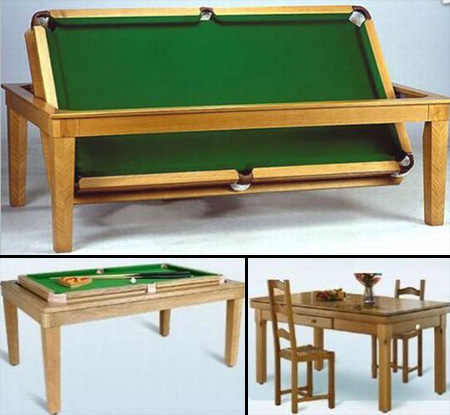 Manhattan Pool Table
Sophisticated and sleek, and stunning in its presence, this dynamic table is an exciting addition to any contemporary room.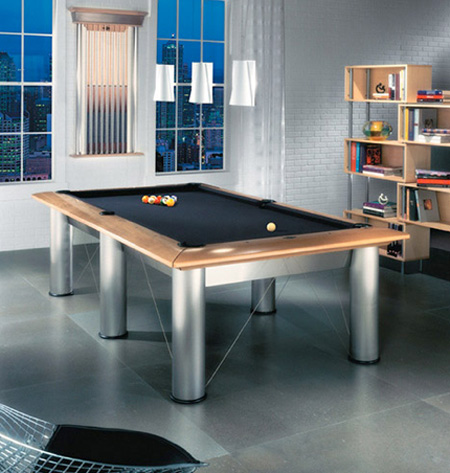 Ice Sculpture Pool Table
Amazing working full size pool table sculpted from ice.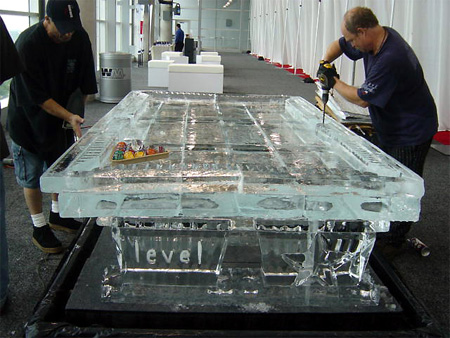 The Predator Pool Table
The table is made of wood, metal, and glass with an aluminum and maple veneer frame. It also has a ball return setup.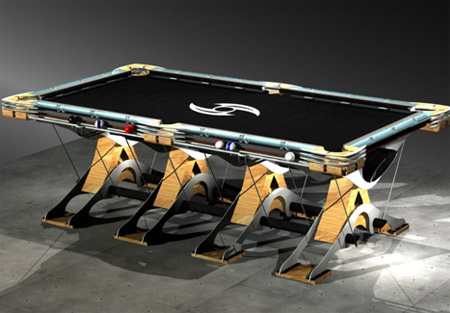 Vincent Facquet Pool Table
Spectacular pool table design by a triple world champion pool player Vincent Facquet.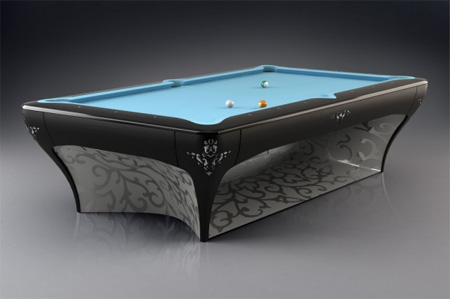 The Executive Pool Table
This pool table is more of an entertainment center than anything. It has an LCD TV, a stereo, flat-panel speakers, what looks to be a PS2 and even a small bar for your favorite drinks.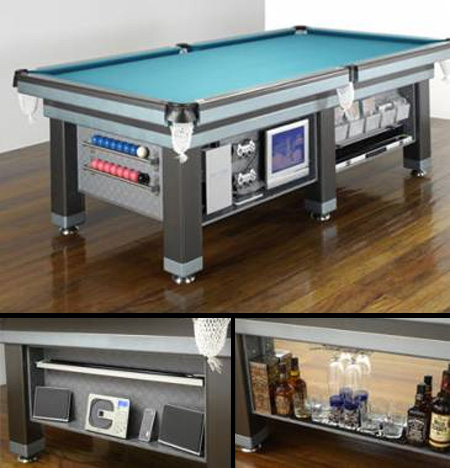 Mobile Pool Table
If you love billiards, then you need bring your A game wherever you go. A challenge is just a quarter of a tank away.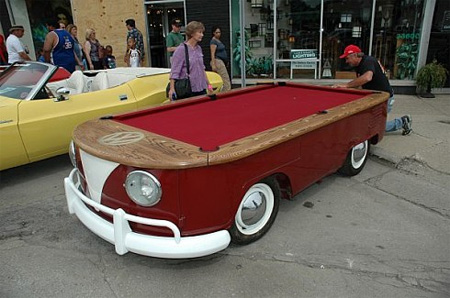 N-17 Pool Table
Beautiful modern pool table design by Michael Wells.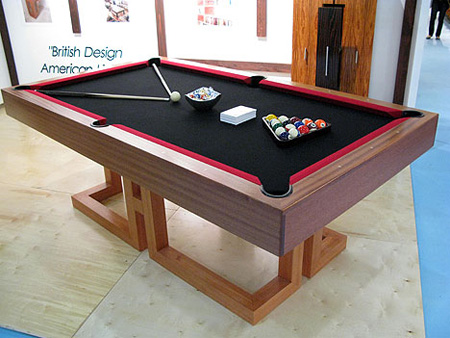 Round Pool Table
The lack of angles means no nasty corners to bump into.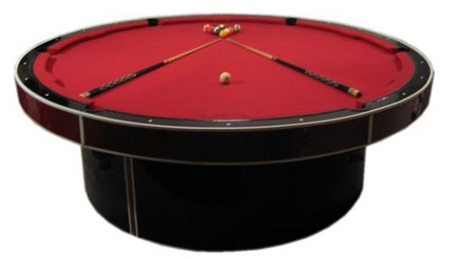 "Pool" Table
Creative billiards table that looks like a swimming pool.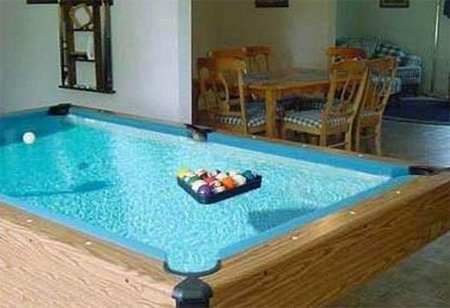 Mars Metal Pool Table
This contemporary billiards table has precision-machined aluminium legs and a solid steel frame for a sense of sturdiness and a sleek futuristic look. The table top seems almost suspended in the air as the legs jut out underneath at an intriguing angle.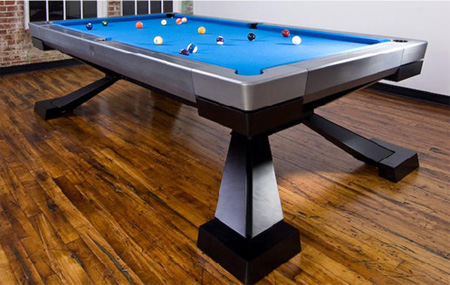 Disappearing Pool Table
When you need a pool table and a family room but don't have the space there is only one thing to do… make the pool table disappear.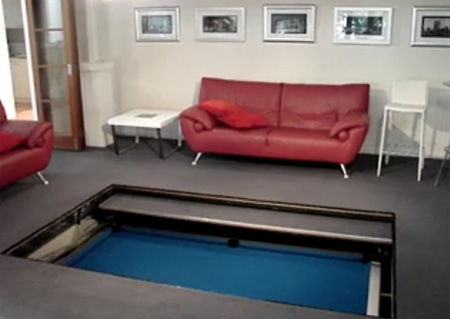 Also check out: Extreme Ping Pong and Ping Pong Door