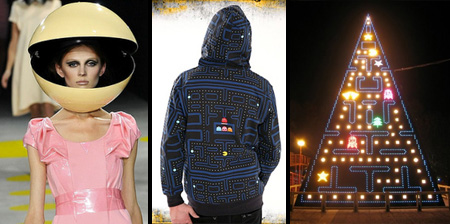 Unusual gadgets and creative product designs inspired by the classic arcade game from the 1980s.
Pac-Man Stapler
A close relative of Pac-Man, the Stap-Man stapler uses those strong jaw muscles to make your office work a breeze.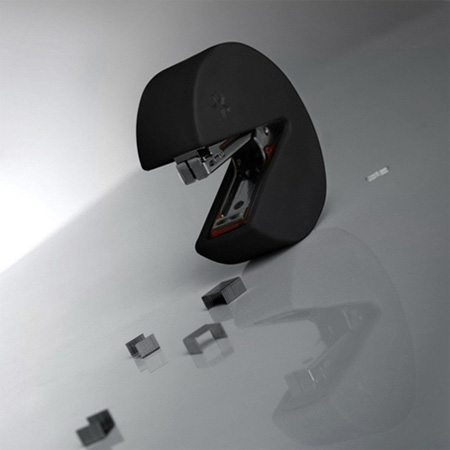 Pac-Man Cake
Amazing Pac-Man inspired wedding cake design by Renee White.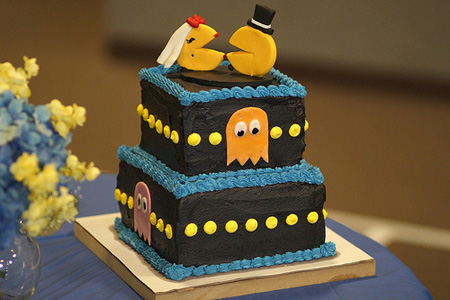 Pac-Man Fashion
Pac-Man inspired Spring/Summer 2009 runway show by fashion designer Giles Deacon.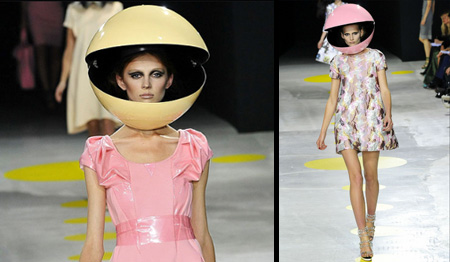 Pac-Man Energy Drink
Fully licensed energy drinks with Pac-Man graphics on them, found in a Sunrise Record store on Yonge Street in Toronto.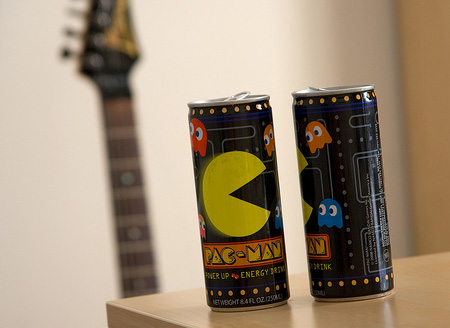 Pac-Man Lampshade
O!CAP is a scented silicon lampshade which uses the temperature generated from the bulb to emit the fragrance.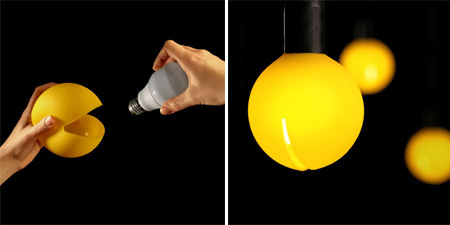 Pac-Man Fireplace
Creative modern fireplace design by Markus Grip for Vauni.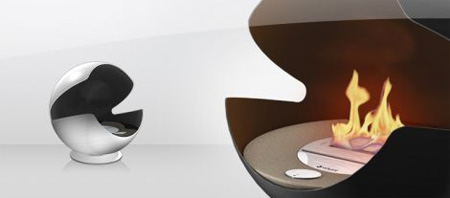 Ms. Pac-Man Ring
Get Pac-man fever with this cool little ring! Looks great as a pair with the ghost.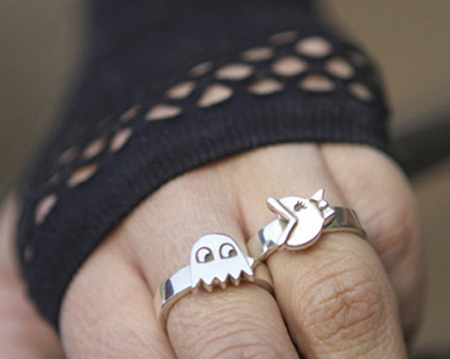 Pac-Man Hoodie
Cool hoodie design with Pac-Man maze pattern that goes all the way around the sweatshirt.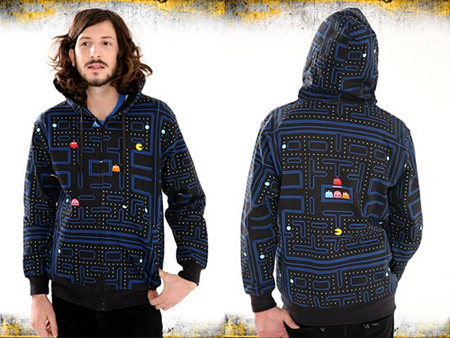 Pac-Man Motorcycle Helmet
Creative homemade full face helmet that looks just like Pac-Man.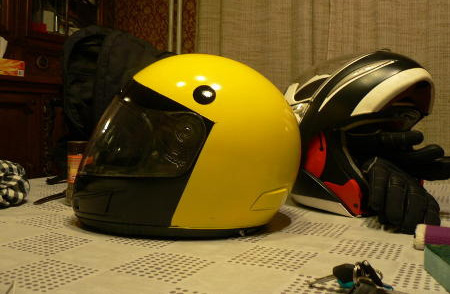 Pac-Man Roomba
With cleverly placed and wired yellow LEDs, a little white Roomba becomes a flashing, shining Pac-Man.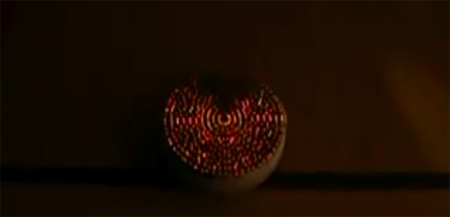 This gaming chair seems like a perfect place to meditate and think how to beat the next level's boss in your favourite game.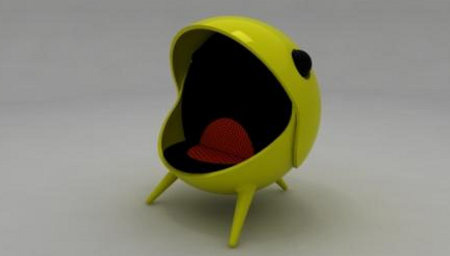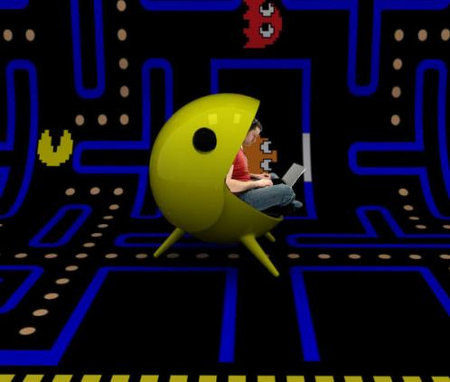 Crocheted Pac-Man
Handcrafted cute Pac-Man character with full set of ghosts.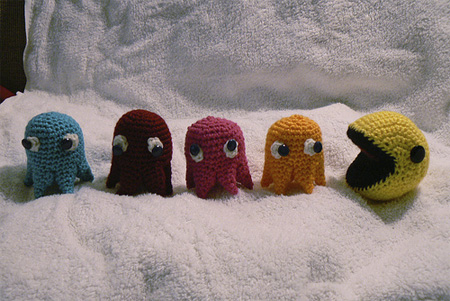 Pac-Man Seating
Creative Pac-Man inspired seating furniture set by QAYOT.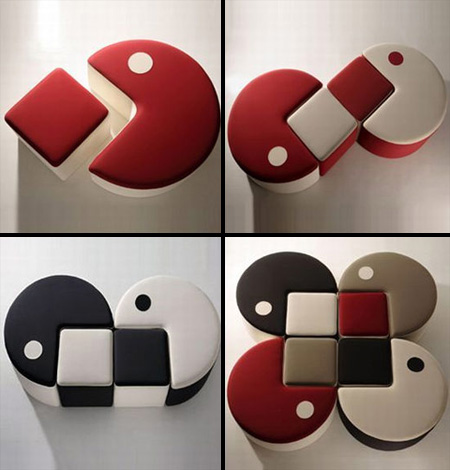 Pac-Man Pot Holder
Pac-Man is back, and he is ready to gobble up your hot pots. [more]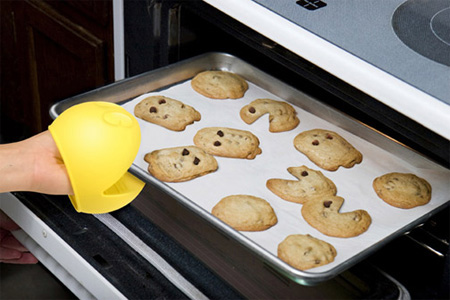 Pac-Man Christmas Tree
Unique version of Pac-Man arcade game, created with thousands of colored LEDs and placed of a Christmas tree. [more]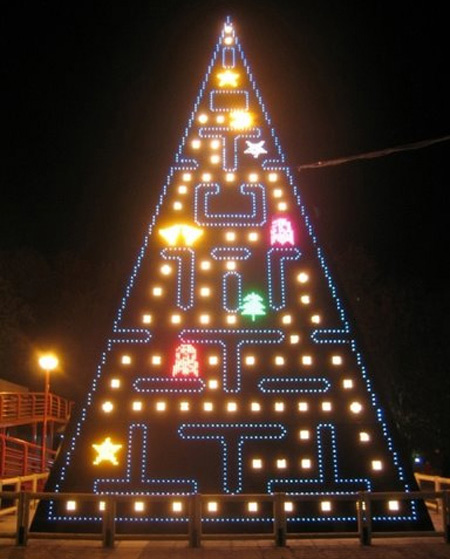 Also check out: Pac-Man Ukulele and Pac-Man Swimsuit