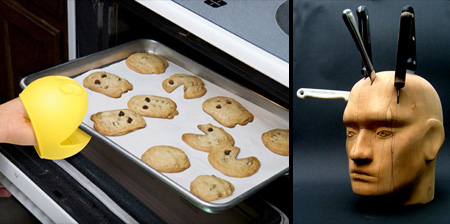 Collection of unusual kitchen gadgets and creative product designs that promise to make the cooking experience more enjoyable.
Clicking Kitchen Grip Oven Mitts
Designed by Anderson Horta, these creative oven mitts were inspired by the hand cursor from your computer. Clever bakeware product.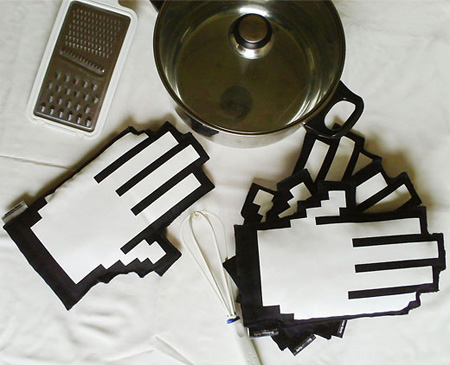 Encanal Cutting Board
Carving board designed by Ernest Perera. The channel in the middle makes sure that nothing falls out of the frying pan.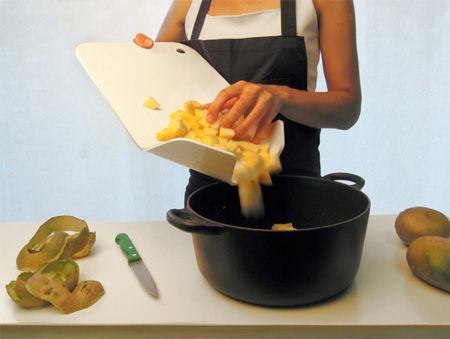 Jigsaw Puzzle Cookie Cutter
Little ones will love helping out in the kitchen with this creative, metal, jigsaw piece cutter.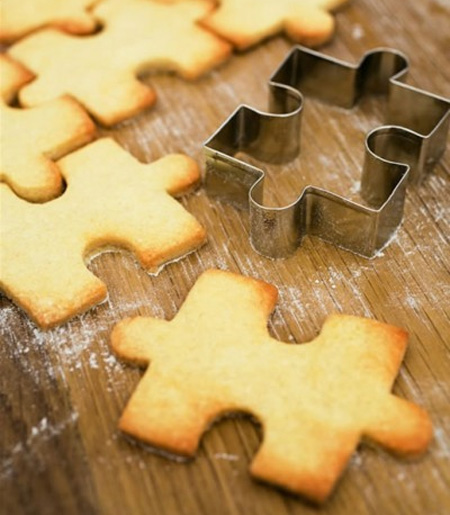 Throwzini's Knife Block
In 1938, the Wheel of Death introduced a spinning target! Decades later, knife throwing still lives on in the modern day circus and it can live on in your kitchen with the Throwzini's Knife Block.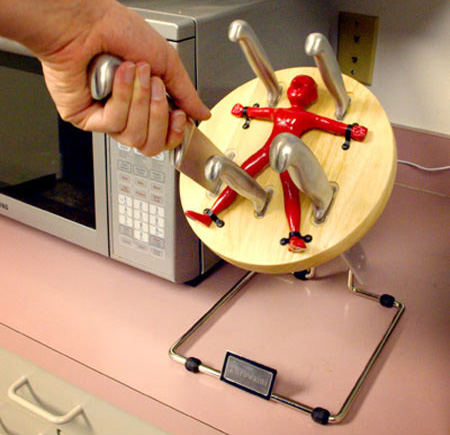 Creative teapot design by Adam Hammerman is shaped like a bird.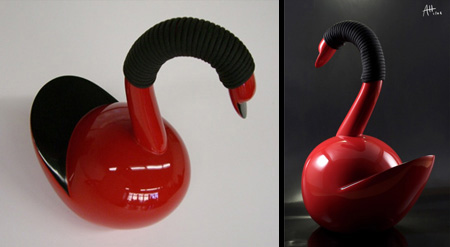 Corn Stripper
Removing corn kernels from cobs has never been easier. The OXO Good Grips Corn Stripper features a container that catches the kernels as they are stripped from the cob.
Banana Handle
Slide the ripe yellow heat-resistant banana peel onto any pan handle and you are fully protected.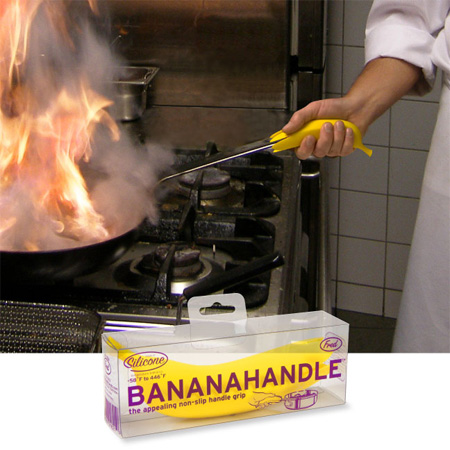 Peter Petrie Egg Separator
Hand-crafted ceramic head sporting a quizzical expression and a huge nose. To use it, you crack an egg into the separator and tilt it forward. [buy]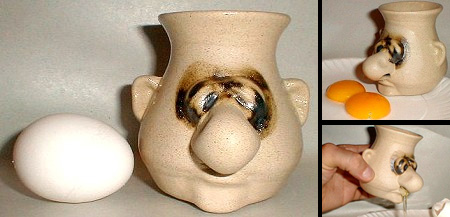 Multi-Blade Rocker Pizza Cutter
Cuts baked pizza into equal slices instantly. Just center the rocker-cutter on the pizza, firmly set blades and rock blades across pizza.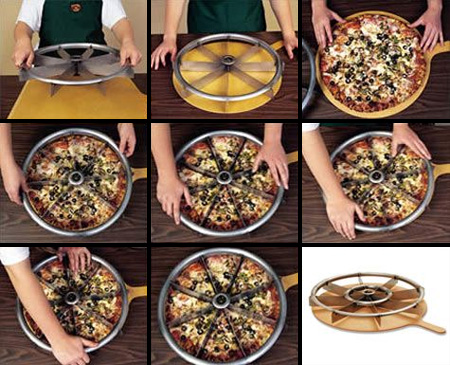 Veggie Peeler
Thanks to this cool gadget, there is no mess in the sink, on the counter or on the floor.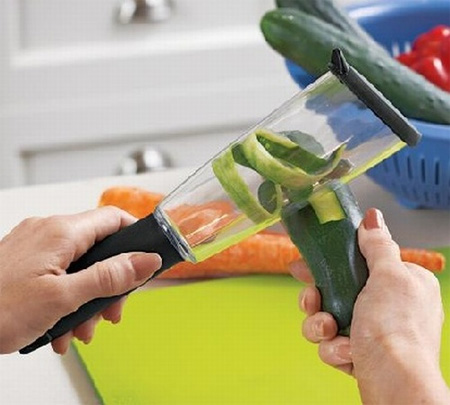 Lightsaber Chopsticks
Unique chopsticks suitable for eating sushi or defending the galaxy.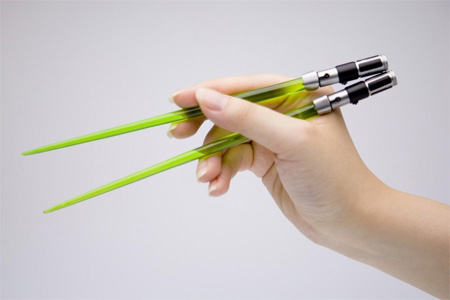 Do It All Knife
This set of knives makes other kitchen tool redundant by incorporating different (cutting)-actions within the unused surfaces of the blades.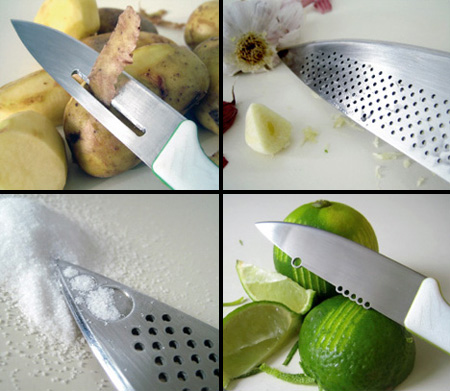 Pac-Man HotHead Pot Holder
Pac-Man is back, and he is ready to gobble up your hot pots and pans.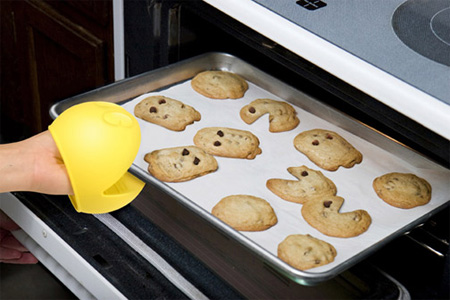 Human Head Knife Block
Unique knife block created by Dutch designer Maarten Baas.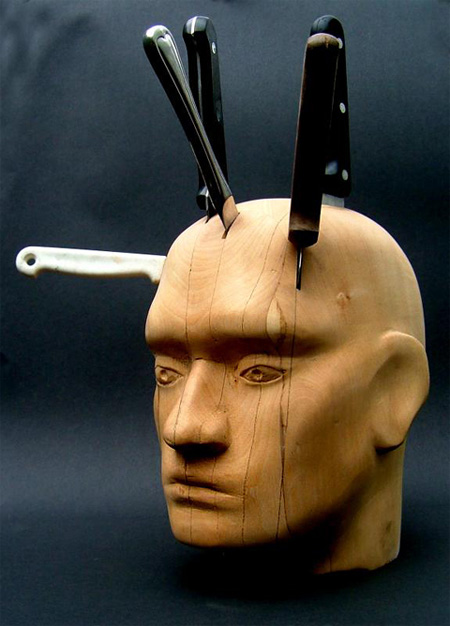 Also check out: Sushi Bazooka, Nesting Knives, and Wooden Knives