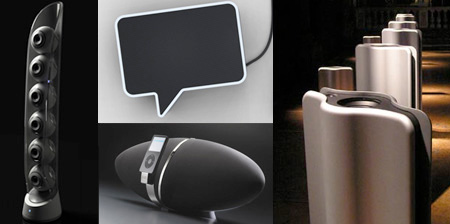 Modern speakers and creative sound systems from all over the world.
Modal Speakers
Created by Japanese designer Kunihiro Tsuji, a single Modal speaker is able to deliver ambient sound due to the vertical sound emission.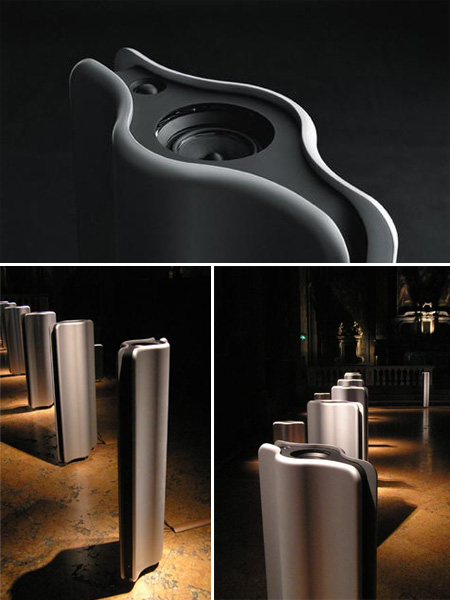 X-mini iHome Capsule Speaker
Just pop open the capsule and extend the speaker – this opens the resonance chamber and increases bass response. At full charge, the speaker can run for nearly 8 hours.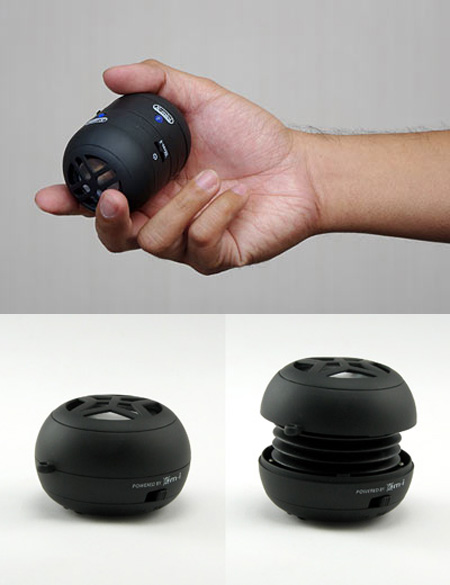 Boom Box Speakers
"Fold it yourself" mini Boom Box stereo for your iPod or other MP3 player. Complete with real, fully working and amplified speakers.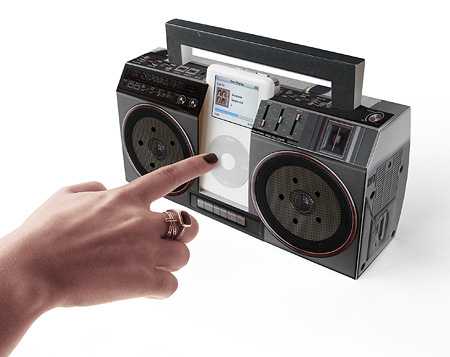 Munny Speakers
Learn how to create your own Munny speakers out of a vinyl doll.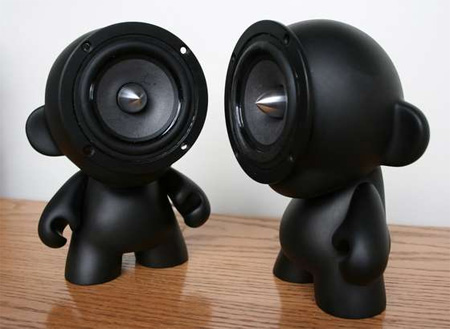 500XL Speakers
Sometimes bigger IS really better, especially when it comes to sound. These speakers are 500 times the size of the original iPod earbuds.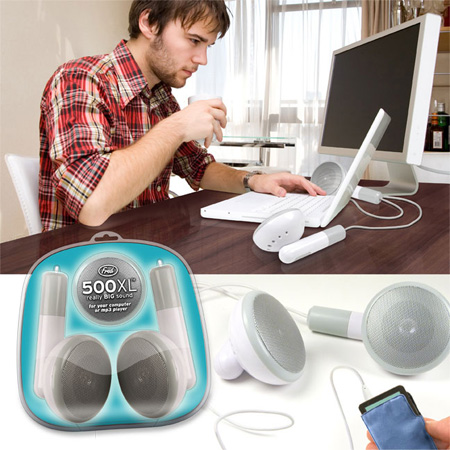 Speech Bubble Speak-er
Speak-er are high-qualtiy multimedia speakers that plug directly into your computer or MP3 player.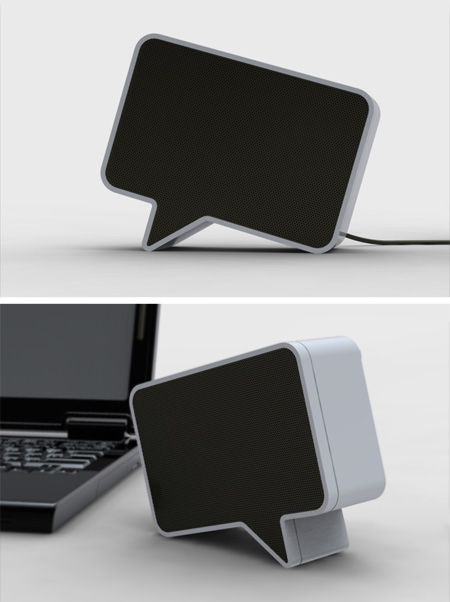 Wireless Freewheeler Speaker
Simply plug in your audio source into the included transmitter and roll the Freewheeler around your house, it will play your tunes remotely.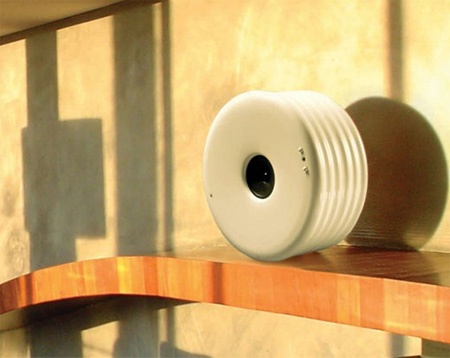 Sonicum Speaker System
Sonicum is a 3-piece speaker subwoofer set. It can be connected to the line-in port of any audio source, such as a CD player, a computer, or a synthesizer.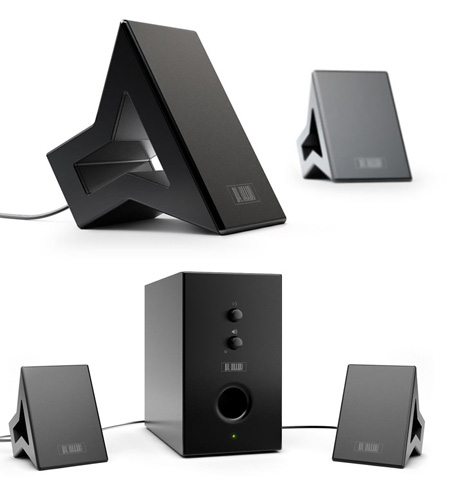 Rithm Speakers
Danish company Davone's Rithm speaker combines top-quality sound with a parabolic work of art.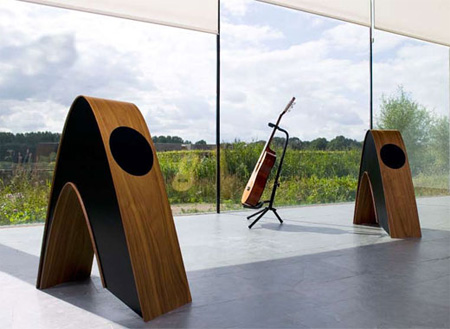 Speaker Buddies
Speaker Buddies are designed to work in pairs. They can be placed in any environment and as they are lightweight they can be moved with little effort.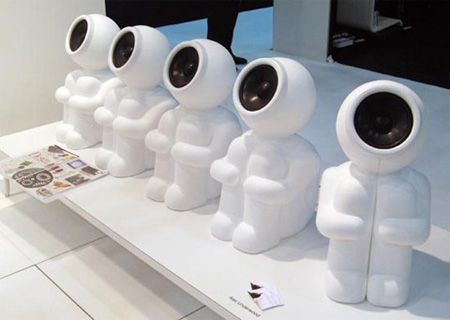 Apple Shaped Speakers
Creative apple shaped digital USB Laptop speakers.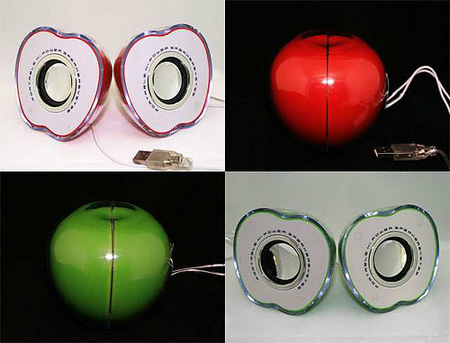 Zeppelin iPod Speaker System
Zeppelin is an integrated iPod speaker system from Bowers & Wilkins, the makers of the speakers that much of the music on your iPod will have been made using.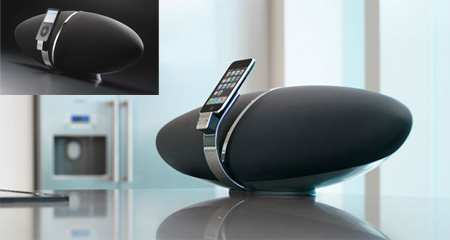 iH15W Color Changing Stereo System
Two Reson8 speakers and a passive subwoofer provide enhanced audio sound and give life to every song. Select your favorite color or let the color cycle set the scene.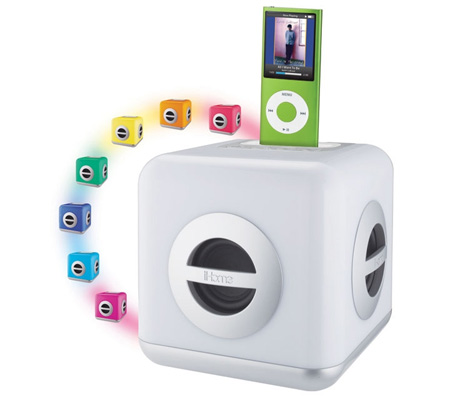 Turntable Speaker Mixer
Mix it up! Tiny turntable-style speaker allows you to not only amplify your music, but let's you scratch (ie – add fun preprogrammed sound effects to your jams) as well.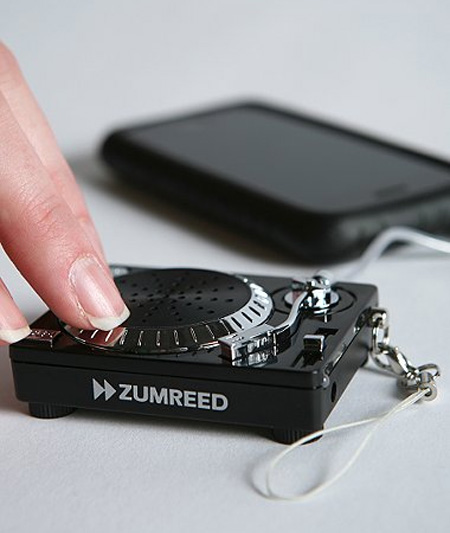 Egg Speakers
Creative egg-shaped speakers allow you to wobble them like a Weeble while you listen to your tunes.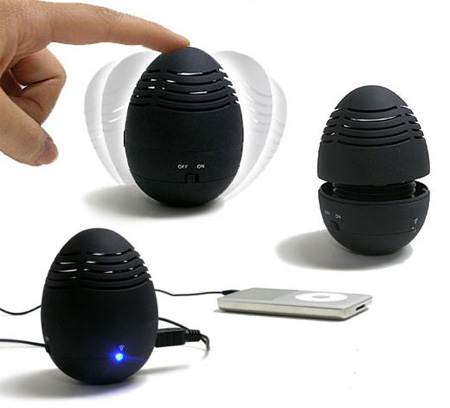 USB Hub Card Reader Speakers
Multifunction at its best, a 3-1 USB hub, card reader and egg shaped speakers.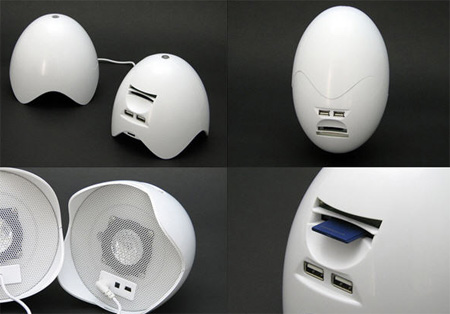 Dutch Dead Bbudd Speaker System
Dead Bbudd speaker system looks like some sort of naugahyde-wrapped dude with his eyes X'd out. The speakers are embedded into his feet, pumping out the tunes as he sits on your desk.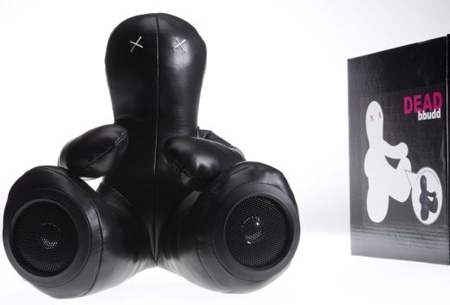 360° Speaker Concept
A true, object-based surround experience. The speaker cones are internally attached to a spider-like structure which is invisible from the outside.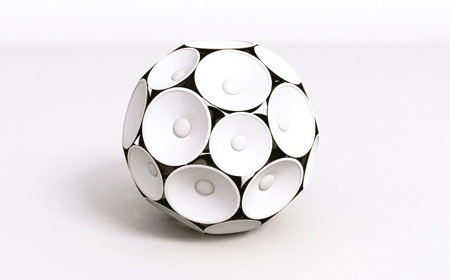 Ceramic Paper Speakers
Thin paper ceramic loudspeakers made from discarded musical scores and clay. The ceramic columns amplify sound from your strategically placed earbuds to broadcast music like regular speakers would.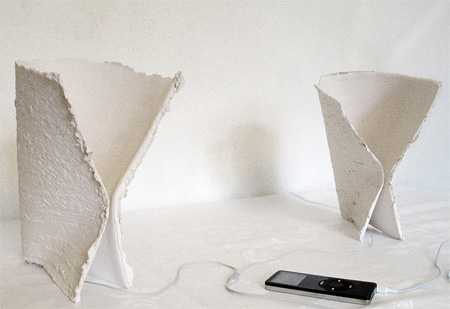 Yorozu Audio Sound Revolution Kit
The Yorozu Audio kit lets you use just about anything as a speaker! Starting with the included paper milk carton "speaker", all you do is place the vibrating extension onto a surface with the included adhesive sheets, plug in your audio source, and have an instant audio speaker.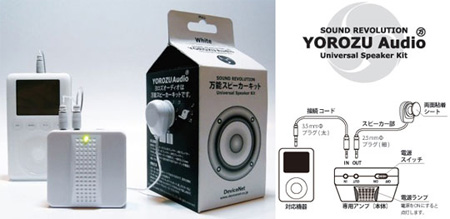 Pea Speaker Concept
The Pea Speaker system is bound to be costly, incurring damages from being tossed around, but that's what designer Lu Le wants – a playful way to share music. Each pod holds 7 wireless bluetooth speakers.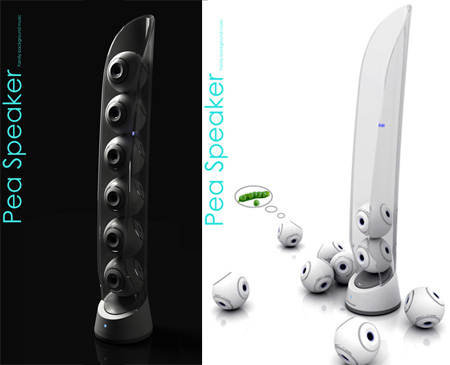 Reppo II is a hardshell boombox backpack with integrated speakers and high quality digital amplifier.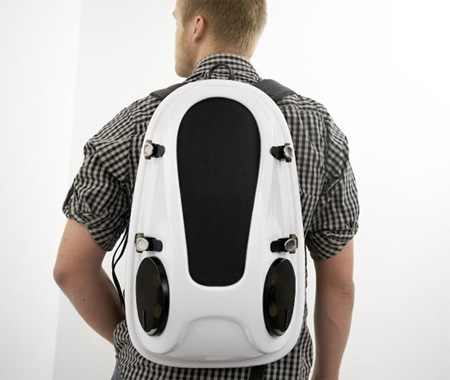 JVC Sound Garden Concept
"Kirikabu" speaker combines your choice of potted plants with multi-directional speakers consisting of a woofer, and left/right-channel stereo speakers powered by an internal amplifier.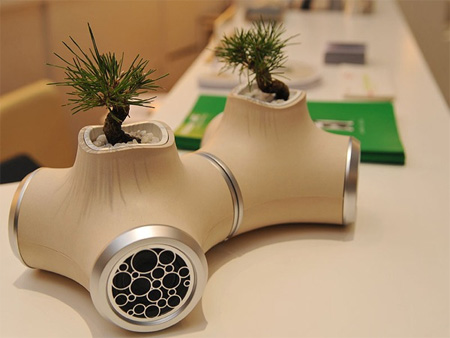 BeoLab 4 Speakers
Perfect for PC speaker applications, as well as smaller rooms in need of a less dominating speaker size.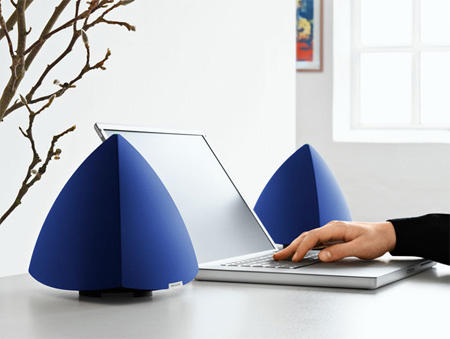 iH85B iPod Speaker
Water-resistant iPod speaker that connects to your bike's frame. Handlebar mounted remote control allows for safe cycling while listening to your tunes.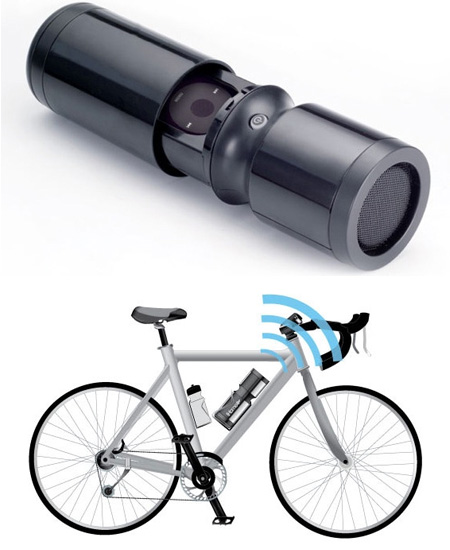 Sony Rolly Sound Entertainment Player
Despite its small size and light weight, Rolly produces surprisingly clear sound. With 180-degree horizontal opposed stereo speakers, listeners can enjoy high sound quality from nearly anywhere.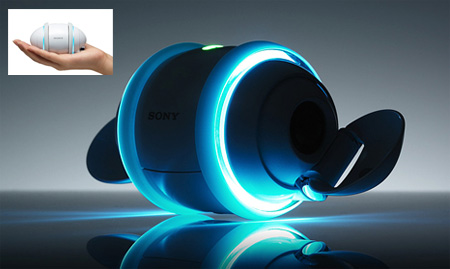 Waterproof iPod Speakers
Taiwanese design company Nova has come up with a waterproof speaker system for iPod that looks like a tube of shower gel.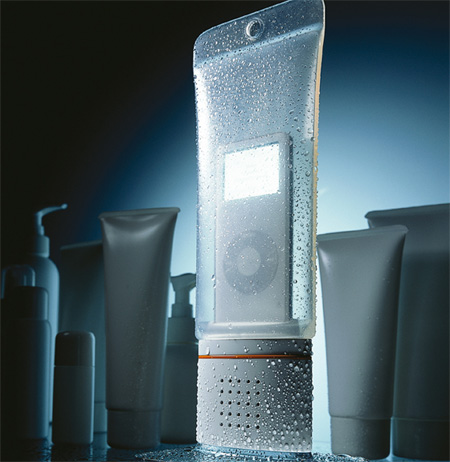 Also check out: Beach Towel with Speakers