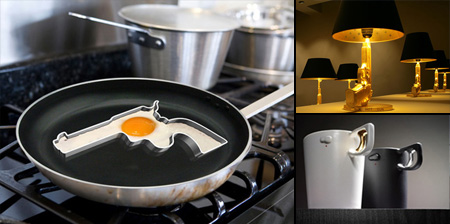 Collection of creative gun shaped gadgets and unusual product designs.
Gun Holster Wallet
The holster wallet is actually comprised of three pieces, a wallet, a small bag, and a "V" connector, which happen to form something that looks suspiciously like a shoulder carry case for a gun.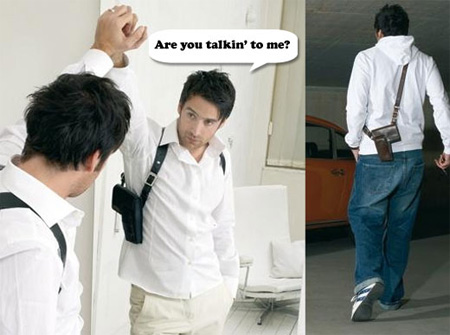 Gun NES Console
Creative retro game console mod. The modder managed to fit a Nintendo NES 8-bit game system into a light gun controller.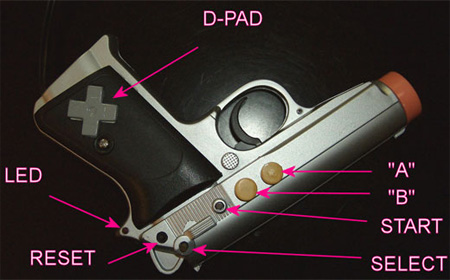 Garden Hose Gun
Have some fun with Garden Gun 5.1 while watering your garden.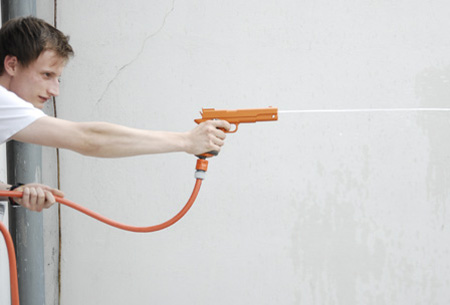 Water Gun Umbrella
Squirt gun mounted on the handle of an umbrella that self-recharges from collected rainwater.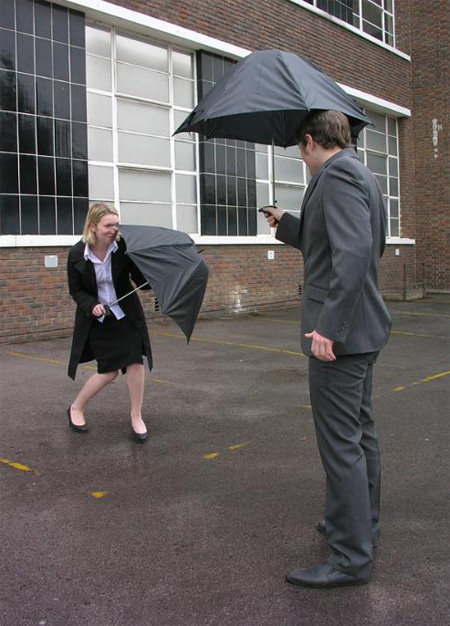 Gun Ruler
Creative hard wood ruler that is shaped like a handgun.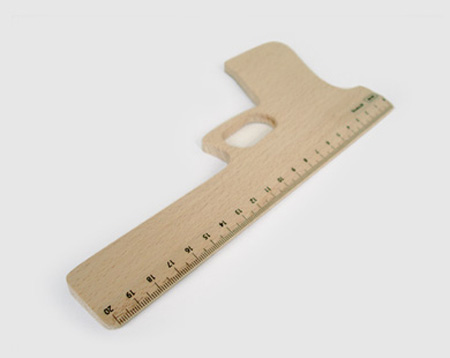 Porcelain Guns
Porcelain Pistols are replicas of James Bond's Walther PPK and its contemporary sister, the P99. These fragile weapons are hand-painted in the style of classic tableware motifs.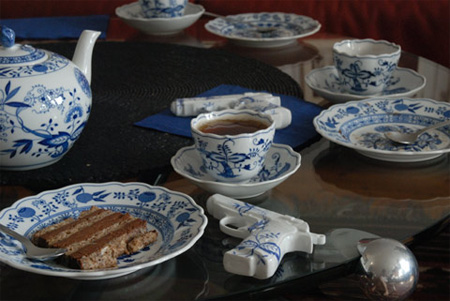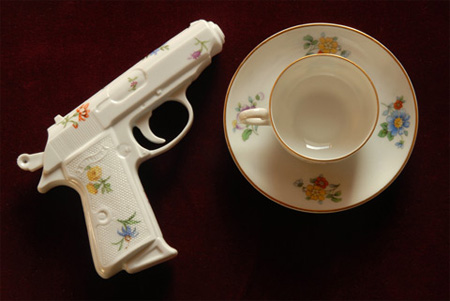 Go slow in life, kill time with a cup of coffee.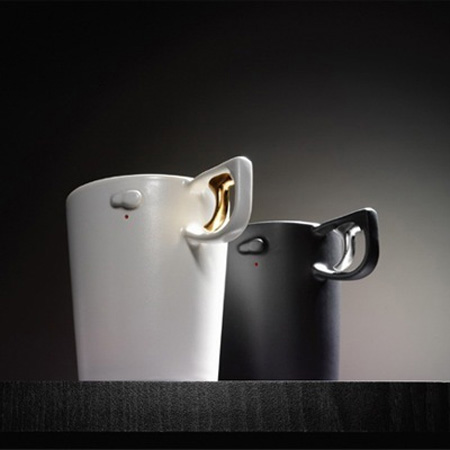 iPhone Gun Handset
Learn how to turn an airsoft handgun and a bluetooth headset into a fun, fully functional handset for your iPhone. Pull the trigger to receive calls and to, um, end them. Listen through the barrel, and talk into the grip.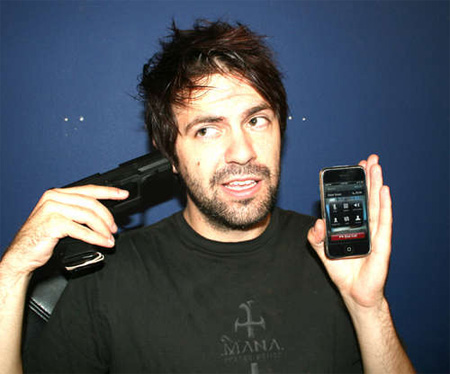 Gun T-shirt
You can carry a gun, but it's preferable to wear one.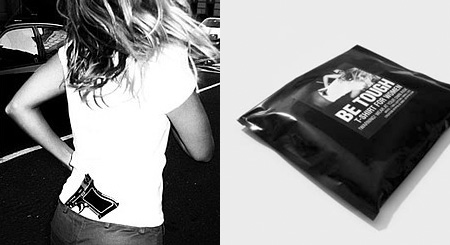 Rest your weary head on this comforting gun pillow.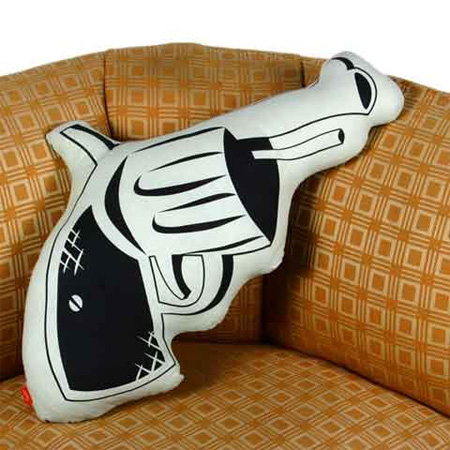 Gun Shoe
Chanel Cruise 'Miami Vice' shoe inspired by an image of a gun.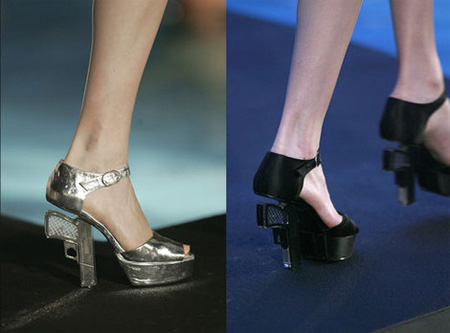 Gun Egg Fryer
Egg fryers that help you cook your eggs in the shape of a gun.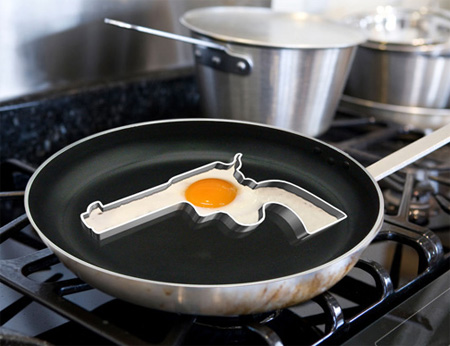 Gun Cell Phone
Unusual Nokia gun cell phone concept design.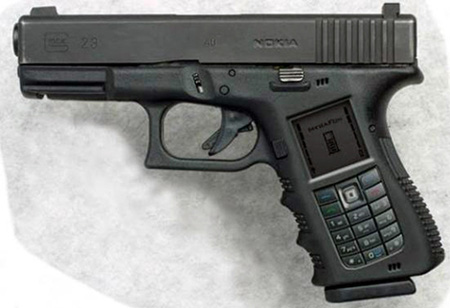 Gun Hairdryer
If you feel like "shooting" your hair dry, then gun hairdryer is perfect for you.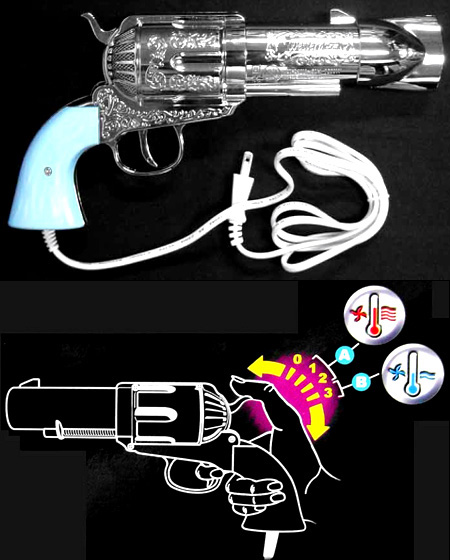 Musical Weapons
Photoshop Contest: The goal was to combine any weapon and any musical instrument.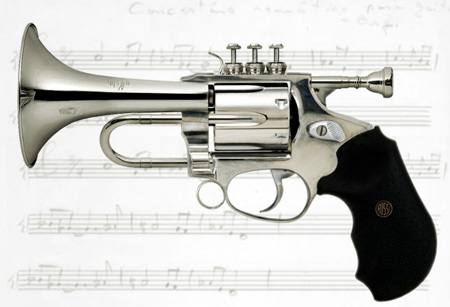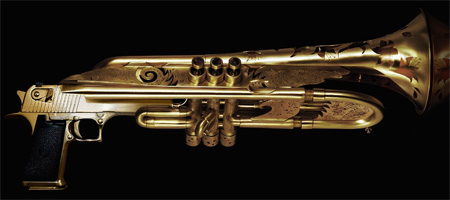 Bedside Gun Lamp
Cast aluminum with injection-molded polymer, polished 18K gold-plated finish. Plasticized paper diffuser. Made in Italy by Flos. [buy now]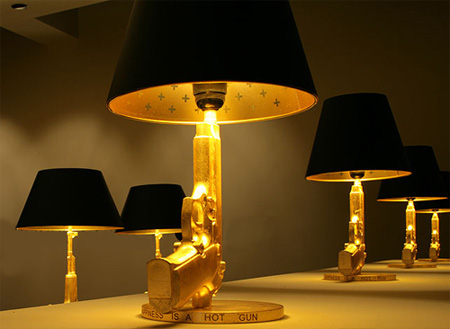 Liquor Gun
Tequila Gun looks very similar to .45 but instead of bullets it's loaded with 200 ml of genuine Mexican tequila.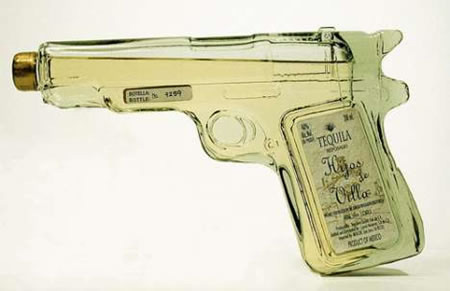 Ketchup Gun
Sausages, chips and burgers will be unable to dodge the splodge once you arm yourself with a Condiment Gun.

This brilliantly ridiculous sauce dispenser looks just like a comedy cartoon six-shooter and it's ideal for anyone who loves squirtable condiments such as ketchup and mustard. [buy now]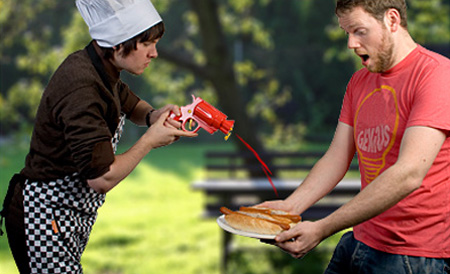 Also check out: Puzzle Weapons and Shark Guns