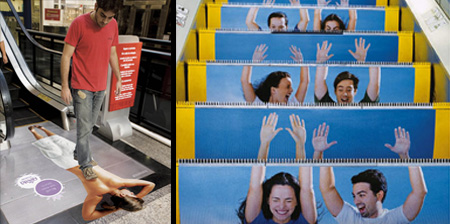 See what happens when companies use escalators to promote their products.
Stickers of half covered Duracell battery compartments were placed at the start of escalators in major shopping malls.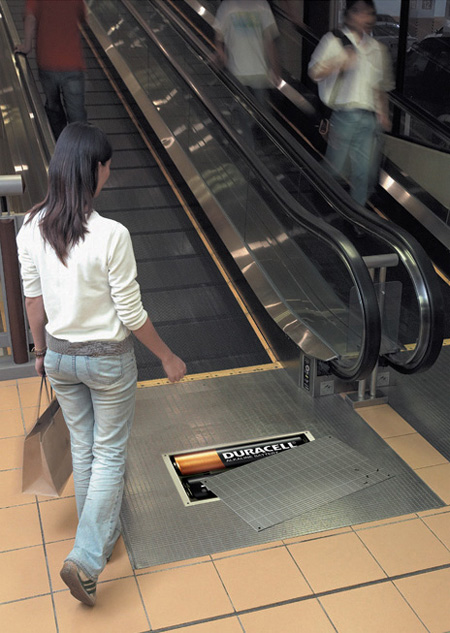 Regular Cola was advertised to people using the stairs and Coke Light to those who chose the escalator.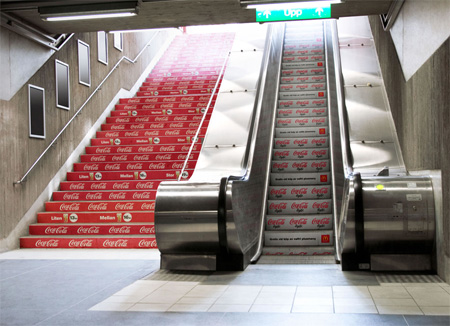 Escalator in front of the Pizza Kingdom restaurant was creatively used to promote their new pizza with more cheese.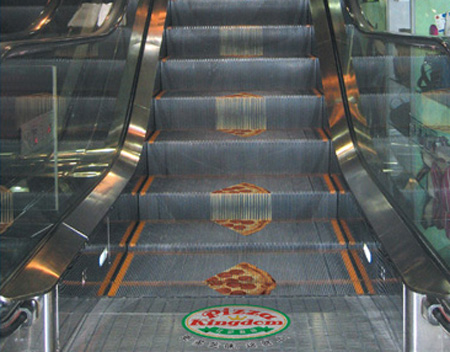 Hyundai Escalator Advertisement
Santa Fe and Tuscan Hyundai car models go up the rough terrain on the escalators in Istanbul's Ataköy Atrium Shopping Mall.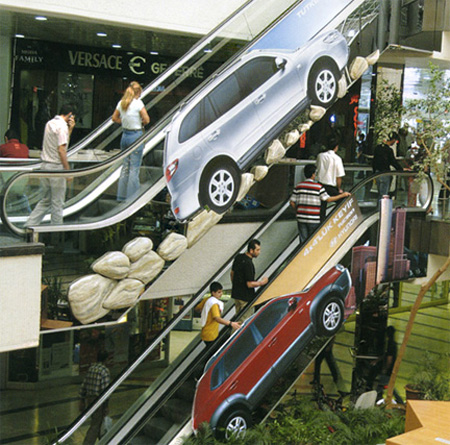 Venus Escalator Advertisement
Giant leg was installed on the escalator with the goal of demonstrating the smooth benefit of Gillette Venus.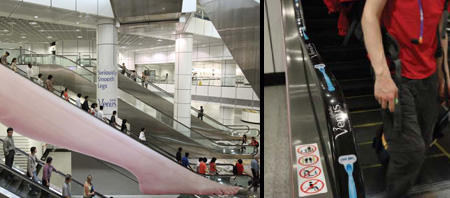 Tata Mutual Fund Escalator Advertisement
The goal is to communicate Tata Tax Saving Fund's dual benefit of lower taxes and higher returns.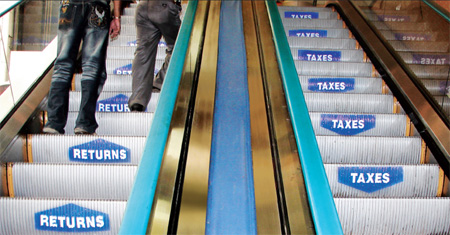 HP Photosmart Escalator Advertisement
Creative escalator advertising campaign promoting HP Photosmart printers in Argentina.

Pantene Escalator Advertisement
Unusual Pantene shampoo advertisement was placed between two escalators in Shanghai, China.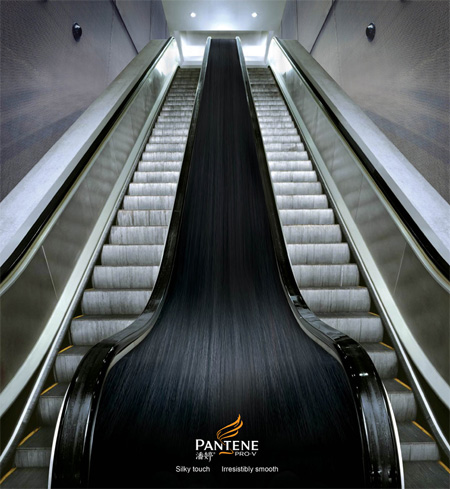 Head & Shoulders Escalator Advertisement
Easy to comb. Head & Shoulders. From Argentina.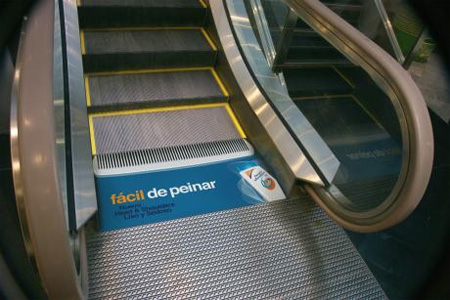 Haribo Rotella Escalator Advertisement
Two handrails of an escalator look like enormous strings of liquorice that end up in an over-dimensional liquorice fruit wheel.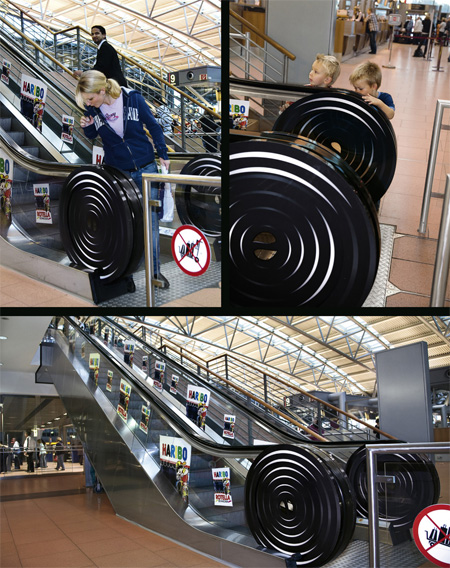 Stabilo Escalator Advertisement
To capture the long-lasting ability of Stabilo highlighters, giant pens were installed at the beginning of escalators throughout Hong Kong. As the steps continually moved forwards, the pen appeared to create the bright yellow safety marks on the side of the steps.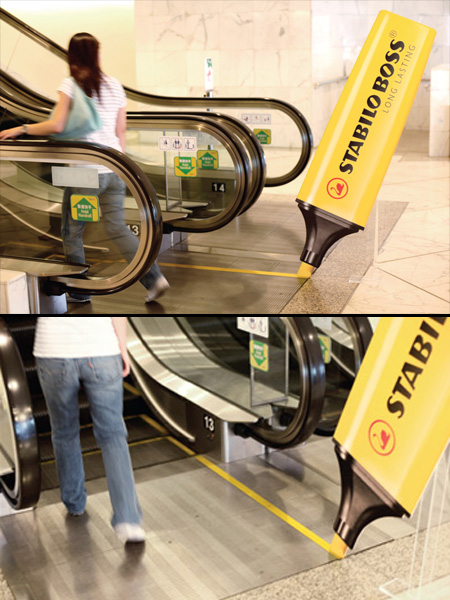 Film Festival Escalator Advertisement
Escalators were turned into rolls of film with strategically placed stickers, to remind people about the Gothenburg International Film Festival.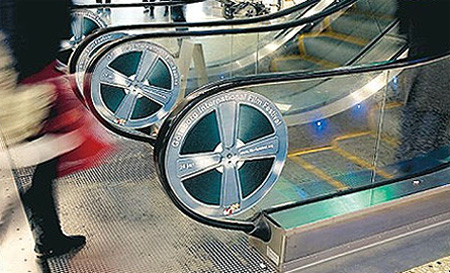 Consol Energy Escalator Advertisement
"America would have 50% less electricity if our coal miners didn't make this trip every day".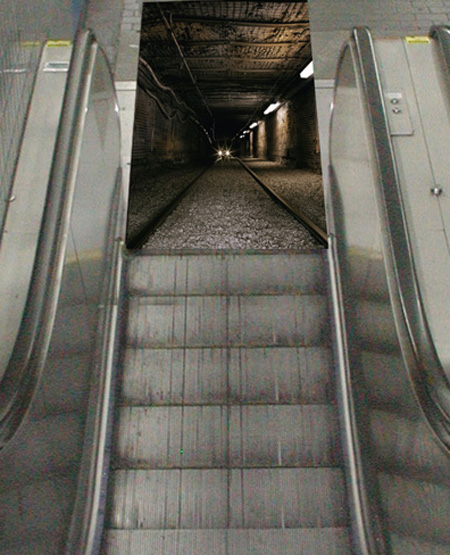 Sushi Roll Escalator Advertisement
Escalator Sushi Train by JWT, Sydney, Australia.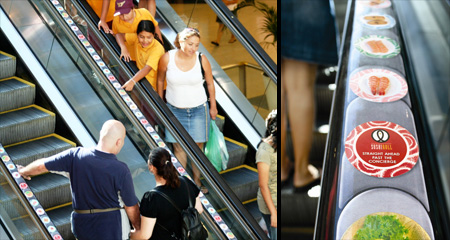 HopiHari Theme Park Advertisement
Clever escalator advertisement from Brazil promoting roller coasters at HopiHari Theme Park.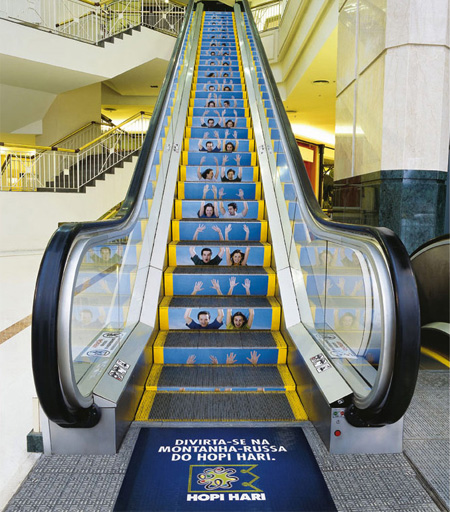 Revita Escalator Advertisement
Cool escalator advertisement for Revita beauty center.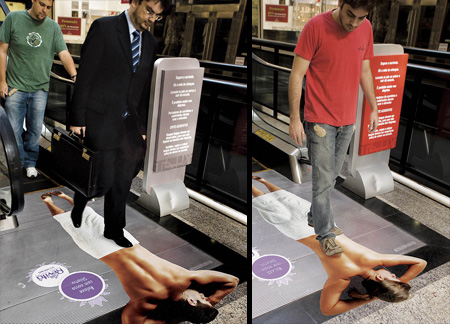 Juice Salon Escalator Advertisement
To advertise the wide variety of hairstyling options available at Juice Salon, a picture of a man was placed on the base of the escalator and a different hairstyle on each of its steps.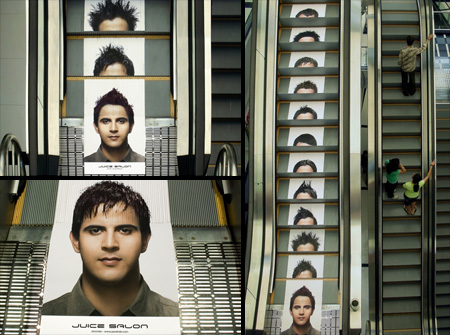 Related Posts
– Clever and Creative Bench Advertising
– Clever and Creative Billboard Advertising
– Creative Yoga and Fitness Advertising
– Creative Bus Stop Advertisements
– Clever and Creative Bus Advertising
– Clever and Creative Crosswalk Advertising
– Clever and Creative Shopping Bag Advertising